Bubble Jet Set 2000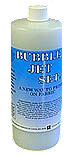 Yes, it really is this simple!
Now let's get started. The first thing you have to do is purchase the Bubble Jet Set 2000 solution. Now, many quilt shops are not yet carrying it, but, we do have the wonder of the Internet that offers these sites to purchase from (I am not listing prices here as they may change more often than I update this page):
Visit the home page of the product inventors: C. Jenkins Company
Fabric Selections
I have found that the best fabric to use is a 200 thread count muslin. (Even Joann Fabrics carries this, great use of the 50% coupon, invest in the entire bolt!) I prefer the white muslin. The unbleached muslin tends to have seeds in it that will prevent the ink from adhering to the fabric (a) and dulls the image (b).
If you are making a memory quilt, the unbleached muslin will give you a more antiqued look. Keep in mind, the 200 thread count muslin is very dense. Thus, you may not want to use this if you intend to hand quilt the fabric. A Kona white cotton works well, and even the "premium" grade Joann's muslin will work. (Not the cheapest stuff!)
I haven't done this, but, if you want to go wild, consider using other colors, white-on-whites, and so forth for your fabric.
Printer Selections
Unfortunately, I cannot promise that this solution will work with every printer out there. Keep in mind, we are talking ink-jet or bubble-jet printers here. Laser printers are another story all together and usually do not require pretreating the fabric. Thus, based on my experiences, here is a listing of printers that seem to work well with the BJS treated fabrics, that is, the inks do not wash out:
| | | |
| --- | --- | --- |
| Printer Manufacturer | Model # | Special Instructions/Comments |
| Canon | S600 | This is the printer that I have. I set the settings for high gloss photo film, adjust the saturation one notch, and wait 24 hours before washing. |
| Canon | 610 | This is my older printer. So, if you still have this printer, your pictures will work just fine. I find that the pink/reds tend to slightly bleed so using a ©Dye Magnet is strongly recommended. |
And the printers that do NOT seem to work:
| | | |
| --- | --- | --- |
| Printer Manufacturer | Model # | Special Instructions/Comments |
Preparing the Fabric
Wash the fabric in hot water so it shrinks, using Synthrapol if you have it, or just a small quantity of detergent. Do not use any fabric softeners. Dry the fabric in a hot dryer.
Press the fabric and then cut into approximately 9" x 11.5" sheets. Cut similary sized sheets of freezer paper. (You can purchase Reynold's Freezer Wrap in the paper section at most grocery stores.) You can reuse the freezer paper, so keep that in mind.
Mix your bottle of BJS. Layer your fabric sheets into a container and pour the BJS solution on it. Be generous and make sure each sheet is saturated. Allow the fabric to sit in the solution for about 30 minutes. Then, remove each sheet and place it either on some towels, or hang on a drying rack, and drip dry. (Do not dry in the dryer.) You can pour any absorbed solution back into your bottle to reuse later.
Now, with a hot iron, press the fabric onto the *shiny* side of the freezer paper. You want to insure that there are no air pockets between the paper and the fabric. Also, pay extra attention to the edges all the way around. I find more success by pressing on both sides of the "packet" of fabric/paper.
Trim the sheets down to 8.5" x 11" with a rotary cutter and ruler. (Keep in mind, if your printer can accomodate wider or longer sheets, you can make these sheets to that size.) They are now ready to be inserted into your printer.
Prepare the Digital Image
You will need to prepare your image on the computer screen before printing. I use Paint Shop Pro (www.jasc.com) for almost all of my graphic work. It is important to print a test image in grey scale first to make sure everything appears as you want on your final fabric sheet. Mark an X on one side of your paper before printing so that you will know if you have to put your fabric in face down or face up for printing. Most programs have a File/Print Preview option that you can use prior to printing to make sure your image is centered on the paper as desired.
Print Your Image
I find that setting the properties for Glossy Photo Paper give me the best saturation for my images. But go ahead and test a few different kinds of images first to see what works best for you. Insert your fabric sheet into the printer guide just as you would standard computer printer paper. Print your image.
Washing
Allow the image to dry for at least 30 minutes, but 24 hours is better. Seperate it from the freezer paper (save that for reuse) and wash in a large cycle of hot water in your washer. You really want a lot of water so that the fabric has room to move over. Using a dye magnet or Synthrapol in the wash will help catch lose inks so that they do not fall onto another area of your printout. You can dry in the dryer or air dry. Your image is now ready and colorfast.
Additional Comments
If you find that your paper uncurls at the edges when going through the printer, you can also try using spray basting adhesive to affix your fabric sheet to a regular piece of copy paper. Then trim.
It is important that your edges be smooth. You do not want any fraying or lose threads to get caught up in the printer.
If you are planning to print a lot, or it has been a while since you printed with your printer, clean your print heads. Then run a few pieces of test sheets through the machine with no fabric to help catch any lose inks on the fabric.